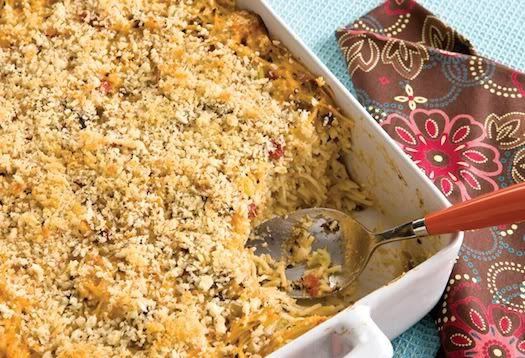 We spent some time at the farm this weekend which is always my excuse to try out new recipes or old favorites that are not necessarily diet friendly. I love splurging on the weekends! I tried Paula Deen's Chicken Spaghetti which was divine and came up with an easy peanut butter cake recipe. Here are the recipes from our menu...
Paula Deen's Chicken Spaghetti
1/4 cup plus 2 tbsp butter, divided
1 (8 oz) package sliced fresh mushrooms
1 (14 oz) can chicken broth
1 (10 3/4 oz) can cream of chicken soup
1 (10 oz) can diced tomatoes with green chiles, drained...I used Rotel
1 tsp House Seasoning (recipe follows; basically a dash of s&p and garlic powder)
3 1/2 cups cooked chicken...use a pre-cooked rotisserie chicken; much easier!
2 cups shredded sharp cheddar cheese
1 (12 oz) box angel hair pasta, cooked according to package directions
3/4 cup panko or Progresso bread crumbs
Preheat oven to 350. Spray a 13x9 inch baking dish with nonstick cooking spray.
In a medium skillet, melt 1/4 cup butter over medium high heat. Add onion, celery and mushrooms; saute for 5 to 6 minutes or just until vegetables are tender.
In a large bowl, combine onion mixture, broth, both soups, Rotel, sour cream and house seasoning. Add pasta, tossing gently to coat. Spoon mixture into prepared baking dish.
In a small bowl, combine bread crumbs and 2 tbsp melted butter. Sprinkle evenly over casserole. Bake for 30 to 40 minutes or until hot and bubble.
House Seasoning
1/4 cup ground black pepper
In a small bowl, combine all ingredients and store in an airtight container for up to 6 months.
Peanut Butter cake with Peanut Butter Frosting
Preheat oven to 350 degrees. Grease muffin or cake tins.
Prepare cake mix acording to package directions. Add peanut butter and blend with a mixer on low. Spoon into muffin or cake tin.
After cake has cooled, add 1/4 cup peanut butter to your favorite homemade chocolate icing or to 1 can chocolate icing (that's what I did) and blend with a mixer in low.
These were delicious!!!
Along with the chicken spaghetti, I served a simple salad. This was an easy menu that did not take too much time away from family time and it serves a crowd. Enjoy!