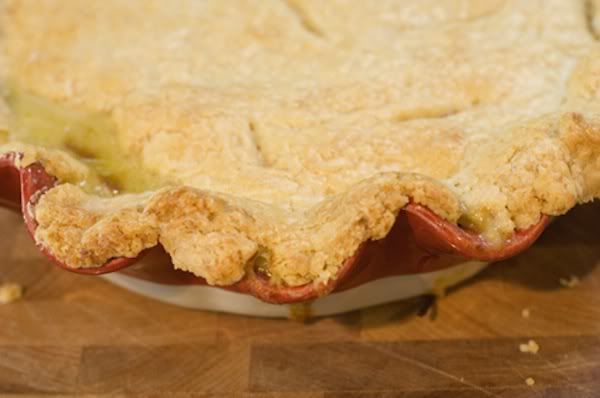 I love comfort foods and chicken pot pie definitely is at the top of my favorite list. Whenever people hear the words, "comfort food", they automatically think FAT, FAT, FAT. Well, I'm hear with a somewhat healthy and absolutely delicious pot pie recipe! I have included an even healthier version at the bottom!
Ingredients:
* 1 frozen pie shell
* 1 lose pie crust from the refrigerated section
* 1 rotisserie chicken - I like to use the lemon herb chicken for this recipe
* 1/2 cup chopped onion
* 1 1/2 - 2 cans of cream of chicken soup
* 1 bag of frozen vegetables - peas and carrots is what I always use
* Salt & pepper to taste
Directions:

Preheat the oven to 425 degrees


Tear chicken into bite size pieces. Dump the chicken, onions, soup and vegetables in a bowl and mix. Add salt and pepper to taste.


Pour mixture into frozen pie shell and then cover with pie crust. Poke a few holes in the top crust.

Bake for 45-55 minutes or until crust is golden brown.
An even Healthier Version!
When I'm attempting to eat super healthy, I'll make the above version for my family and then save a little of the mixture for me.
Bake the saved amount in a small pyrex dish and bake at 350 until heated through. You still get the creamy middle, just not the pastry shell!
Enjoy!